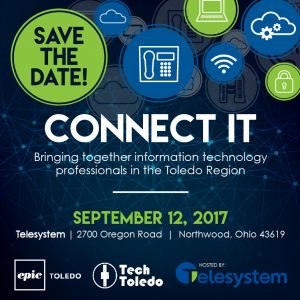 Save the date for the 4th edition of Connect IT, roundtable discussions for information technology professionals in the Toledo region.
September 12, 2017
Hosted by Telesystem, 2700 Oregon Road, Northwood
Format the same, tweaked for our hosts. Free to attend. Register in a few weeks and tell us what topics you are interested in. We will find facilitators, or volunteer to lead a topic yourself. Organized by us with EPIC Toledo, with other groups joining us.
More details later.