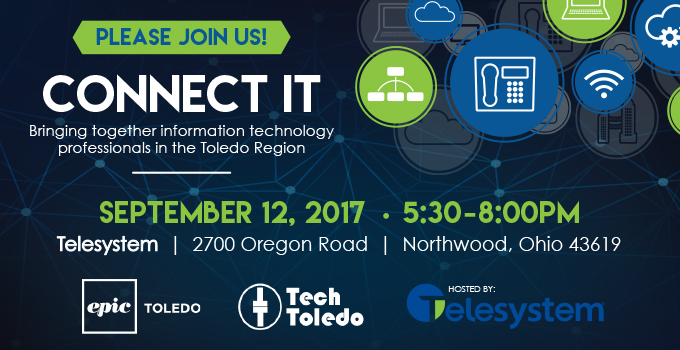 It is time to register for another Connect IT, roundtable discussions for information technology professionals in the Toledo region. Learn something new, meet other IT professionals, and discuss the latest IT trends & solutions.
Tuesday, September 12, 5:30pm – 8pm
Hosted by Telesystem, 2700 Oregon Road, Northwood, 43619
Sponsored by Expedient
Organized by EPIC Toledo & Tech Toledo
FREE
Roundtable discussions
The evening features small group discussions on IT topics. When you register, select from the 21 general topics ("additional information" on page 2 of the registration form) to let us know what you want to talk about.
Backup & Disaster Recovery
BYOD Implementation & Management
Cloud Computing
Cybersecurity & Information Security
DevOps
Enterprise Architecture
Government Policy
IT Infrastructure & Operations
Merger & Acquisition Management
Network & Wireless Technology
Privacy & Compliance
Product Development
Project Management
Scrum & Agile
Software Development Bootcamps
Tech Start-ups
Tech Talent, HR & Recruiting
Usability & User Experience
Virtualization
Web Application Development
Women in Computing
We will try to find expert facilitators for the most popular topics, then help them fine-tune their topic into something specific. You can also volunteer to lead a roundtable. Contact us to suggest a more specific topic or to nominate a roundtable facilitator (including yourself).
Existing groups, such as Toledo Web Professionals and PMI WLEC, often attend Connect IT, leading their own roundtables for their members and anyone else who wants to join them. So far, WordPress Toledo is attending. If your group wants to also attend, contact us.
Updated schedule (as of Sep 8)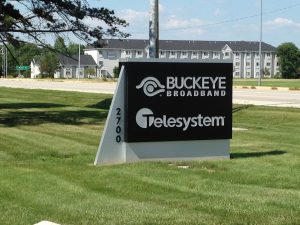 5:30pm: Doors open: Check in, get food (catered by Fuzzy's Taco Shop), join or start a roundtable (right away!)
6:00pm: Continue roundtables
6:45pm: Announcements from organizers, host, and sponsor
7:00pm: Continue roundtables or join a new one
8:00pm: End of event
After "party" at M Osteria
Logistics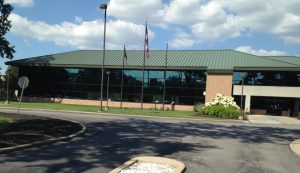 Address: 2700 Oregon Road, Northwood, Ohio, 43619.
Take the I-75 "Wales Road" exit, then turn south on Oregon Road.
Enter at the "Buckeye Broadband | Telesystem" sign and park in the back, behind the building.
Parking is free and convenient.
There is no cost to attend, but attendees MUST register ahead of time for security purposes, so we know how much food to get, and to plan specific roundtable topics.
Thanks to Expedient for providing food as part of their sponsorship!

About Connect IT
This is the 4th installment of Connect IT: Owens Corning in 2015, ProMedica in 2016, and Dana earlier this year.
Connect IT is part of a series of events from EPIC Toledo which are geared toward connecting people in specific industries, related professions, or around important topics. EPIC Toledo strives to connect high-potential emerging leaders to each other and the community, as well as help attract and retain diverse young talent.
While the event is targeted towards Information Technology professionals, anyone applying technology to improve the regional economy is also welcome to participate.