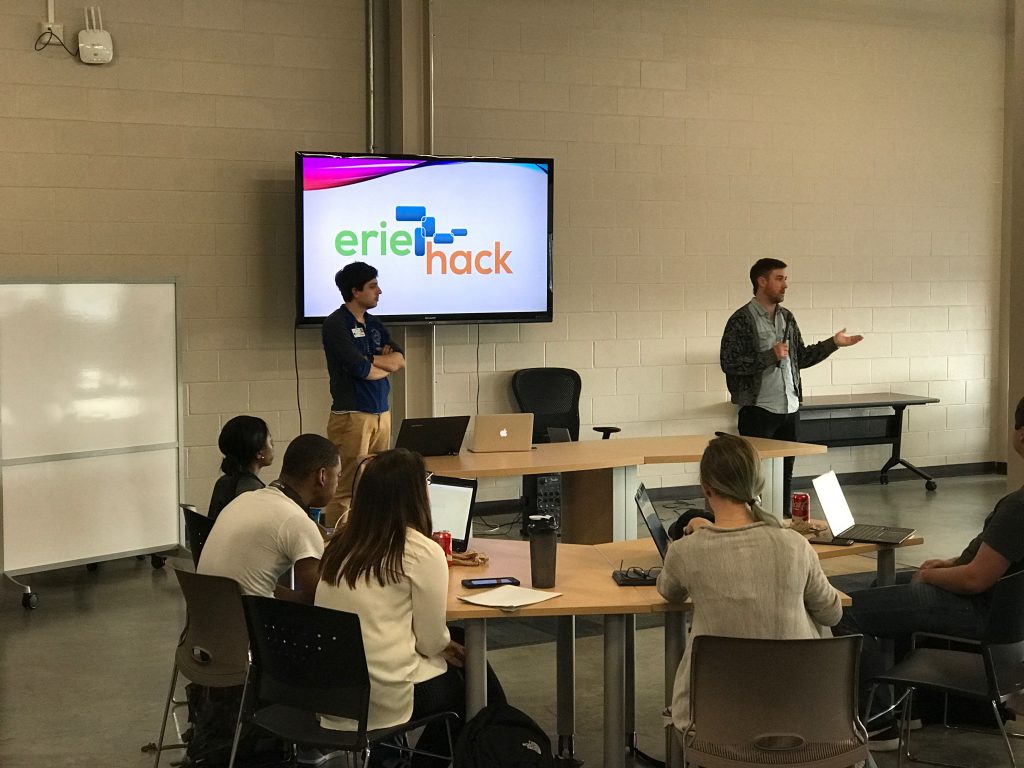 The ErieHack Toledo hackathon and competition took place this past weekend and was a resounding success! Six teams developed their ideas for solving Lake Erie water problems:
FreshWater created an app to boost engagement with water-related resources and provide coupon incentives that required users to answer a water-related question that would help educate the public. The app also provided some water quality information like alerts.
ACOSystem presented an algae harvesting idea in at an industrial-sized level. A floating autonomous algae harvesting factory would collect dried and baled algae to be used for biofuel.
Aquasci designed an app for mobile devices that could test water and upload the water quality tests to a central database. They also wanted to gamify the app to entice people to use it and test certain areas that needed testing. Their intent was to help people visualize the current water quality and see quality metrics over time.
Open Erie wanted to enhance citizen engagement with existing data sets by making the data sets more accessible. There was discussion about how the data sets could be brought into the classroom and made more accessible in other ways.
PlexNet was an autonomous floating water drone that attacked problem algae zones and harvested algae then brought the algae back to be used for biofuel.
Cool Toledo presented a demo of an Arduino device that allowed measurement of water variables. Their goal was to democratize the science of building and delivering scientific measuring devices allowing anyone, including students, to build and deploy measuring devices. Another goal was calibration of sensors.
The top 4 teams (italics above) will move on to compete in the semifinals in Detroit on April 13th. I believe the Toledo teams will be able to compete with teams from other cities.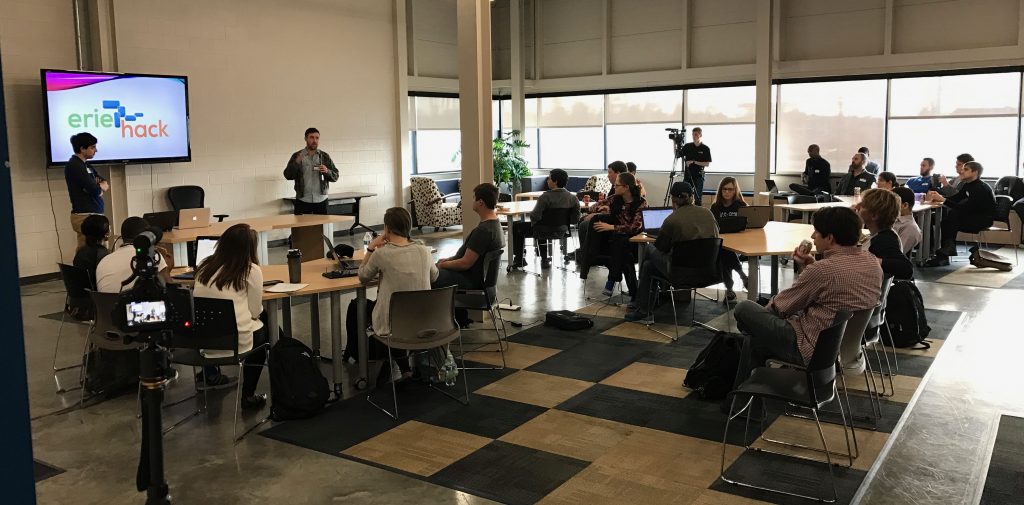 The presentations were impressive, including working prototypes, application wireframes, and engineering drawings. The competitors were well prepared for questions, given that they had been working on their projects for less than 48 hours!
News coverage was provided by WTVG 13 and WTOL 11. There were also representatives attending from ErieHack Cleveland attending.
Judges representing government officials, academics, water engineers, tech engineers, and tech entrepreneurs were:
Toledo Mayor Paula Hicks-Hudson
Lucas County Commissioner Carol Contrada
Dr. Chris Winslow, Director of the Ohio Sea Grant College Program at the Ohio State University
Jane Ruvolo, Congressional Assistant to Rep. Marcy Kaptur
Dr. Daryl Dwyer, Director of Environmental Remediation and Restoration Lab at the University of Toledo
Jason Owens, Chief Engineer at Resonance Group
Me (Stuart Bertsch, co-founder of Tech Toledo)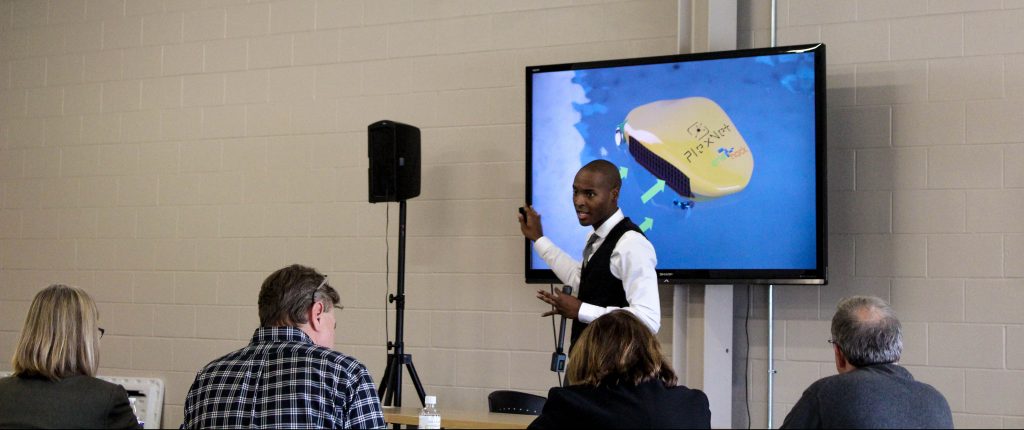 A big thanks to Morgan Fitzgibbons for coordinating and managing the event, the Toledo Community Foundation for providing funding to make Toledo's participation possible, and UT LPI for providing the venue. Tech Toledo helped promote ErieHack and get the tech, design, and entrepreneur community engaged. Supporting hackathons is one of our non-traditional tech talent pipeline efforts.
The ErieHack Water Data and Engineering Hackathon is a tech-driven water innovation competition and accelerator program that brings together software developers, engineers, data experts, water professionals, and concerned citizens to generate creative solutions to Lake Erie's biggest challenges. The ErieHack competition includes regional competitions  in Detroit, Windsor, Cleveland, Erie, and Buffalo, with a final in Cleveland in May.
Learn more about ErieHack at eriehack.io.