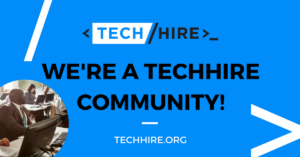 We are excited (to say the least) to be a part of the TechHire announcement that is going on right now (11am on December 1st). Toledo joins 19 other communities in today's announcement dedicated to building inclusive tech ecosystems.
Our TechHire Commitment
Tech Toledo, the Toledo Regional Chamber of Commerce and OhioMeansJobs Lucas County are establishing an information technology workforce alliance to address short-term needs and develop longer-term programs for IT internships and apprenticeship programs. Tech Toledo will work with the current set of committed employers, such as Meyer Hill Lynch, Toledo Lucas County Public Library, and The Andersons, Inc., to find and develop training to address their in-demand IT job needs. Tech Toledo will place at least 100 workers into tech jobs by 2020.
See techhiretoledo.com for more about our efforts and the team.
Additional Information for the Media
Coverage of the announcement (date released/discovered)