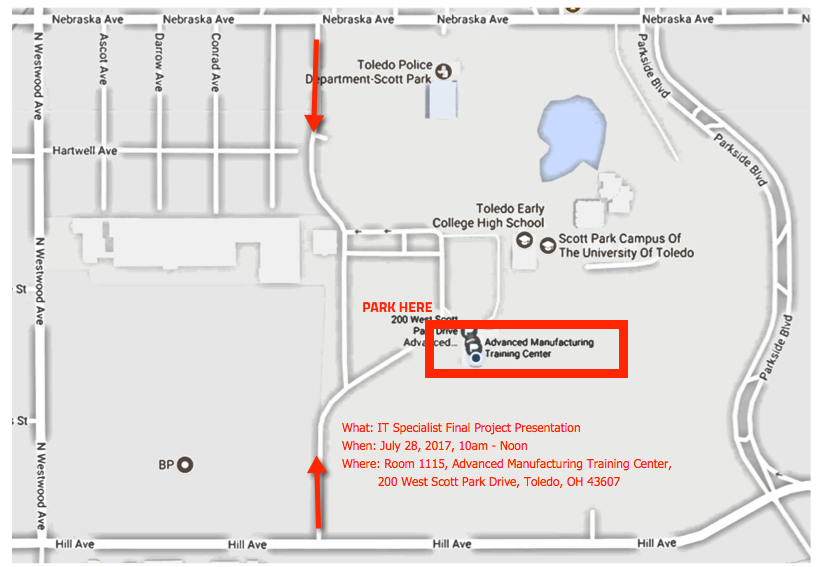 The Summer cohort of the IT specialist program at Northwest State Community College/Train with CTS is wrapping up on July 28th with their project presentations.
You are invited to see the student presentations and meet the students. If you have job openings, be ready to start recruiting!
What: IT Specialist Final Project Presentation
When: July 28, 2017, 10am – Noon
Where: Room 1115, Advanced Manufacturing Training Center, 200 West Scott Park Drive, Toledo, OH 43607
Please RSVP to Deb Fortney at dfortney@northweststate.edu or 419-267-1318 if you plan to attend.
More about the program and presentations
The students have completed the required courses that are part of the IT Specialist curriculum (including SQL, SQL Reporting Services, C#, VB, and Networking).
They will present their group project. The final project included gathering client requirements, prioritizing, proposing a solution and interacting with the client to ensure they are delivering the best revamped website.
The students will explain the before and after of the site, the requirements gathering, mock ups, and final product.
More about the students
Lamar Spear is a quality assurance analyst with over 10 years of diverse professional experience . He decided to become an IT specialist because he can fill a communication void that often exists between IT staff and clients.
Christopher Bogucki is adding database and networking skills to his computer troubleshooting and problem solving skills he picked up during his career in the print industry.
Beth Gobrogge's interest in an IT Specialist certificate was sparked while she was working as an administrative assistant and became the contact person with her employer's IT service provider.
Jeanna Anzaldua has worked in customer service, sales and manufacturing and studied art education at UT. She is an artist in her spare time.
Monica VanPelt is currently employed at a local distribution center, using computer systems to track inventory and process customer orders. She is ready to put her new skills in SQL server, data reporting, and networking to work.
Pam Reynolds is a "Jill of all skills", with the IT specialist certification updating her skills. She has an Associates degree, Bachelors degree, and several other certifications.