It is time for another Connect IT, roundtable discussions for information technology professionals in the Toledo region. Learn something new, meet other Information Technology professionals, and discuss the latest IT trends and solutions. The event is being hosted by Dana Information Technology, organized by EPIC Toledo, in collaboration with Tech Toledo.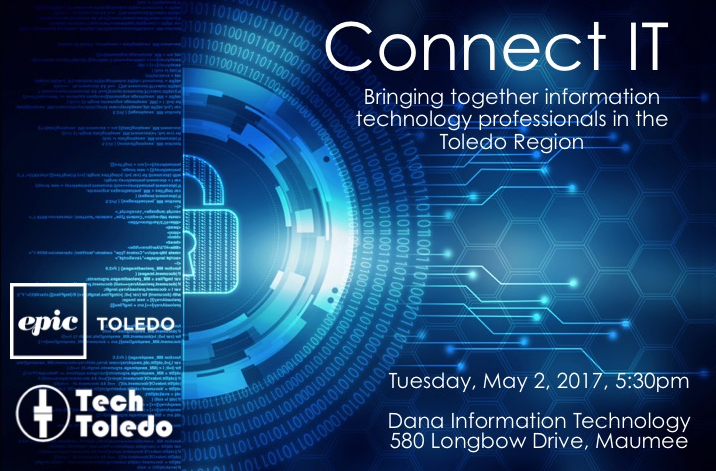 Tuesday, May 2, 5:30pm – 8pm, Dana IT building, Maumee. FREE!
The evening features small group discussions on IT topics. When you register, select from the list of possible topics to let us know what you want to talk about.
Possible topics:
Backup & disaster recovery
BYOD implementation & management
Cloud services
Cybersecurity & information security
DevOps
IT infrastructure & operations
Merger & acquisition management
Network & wireless technology
Open source software
Project management
Tech start ups
Tech talent
Web application development
We have partners for various topics, to encourage other groups to join us. So far: Toledo Web Professionals and PMI WLEC.
Tentative schedule:
5:30pm: Doors open, light meal, socializing
6:15pm: Welcoming and opening remarks
6:30pm: Roundtable session #1
7:00pm: Break
7:15pm: Roundtable session #2
7:45pm: Concluding remarks and wrap-up
8:00pm: End of event
Logistics
Address: 580 Longbow Drive, Maumee OH 43537 (southern part of Arrowhead Park).
Parking is free and convenient. Park BEHIND the building and enter through the door at the back of the building.
There is no cost to attend, but attendees MUST register ahead of time for security purposes, so we know how much food to get, and to plan specific roundtable topics.
About Connect IT
This is the 3rd installment of Connect IT: Owens Corning in 2015, ProMedica in 2016.
Connect IT is part of a series of events from EPIC Toledo that is geared toward connecting people in specific industries, related professions, or around important topics. EPIC Toledo strives to connect high-potential emerging leaders to each other and the community, as well as help attract and retain diverse young talent.
While the event is targeted towards Information Technology professionals, anyone applying technology to improve the regional economy is also welcome to participate.
New this year: SPONSORS! IT vendors or other organizations can help pay for the food and provide other financial support. Sponsor levels can be chosen during registration.
Additional information: