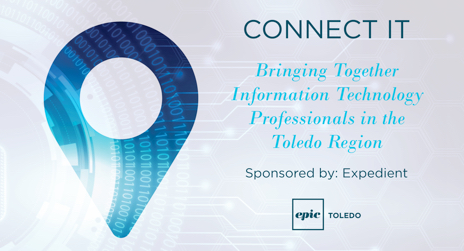 Things are going well for Connect IT on May 2nd, the IT roundtable discussion event we organize with EPIC Toledo. Dana is the host this time: their space will let us have 10 or more break-out sessions on various topics. Also new this time: Expedient, our sponsor, which means we will have a light meal to keep your energy up during the evening. Thanks, Expedient!
The event is FREE but we need you to register ahead of time.
When/Where: Tuesday, May 2, 5:30pm, Dana (on Longbow), Maumee.
As of a few days ago, we had 70 people registered.
Some of the companies where registrants work: Dana (of course), The Andersons, First Solar, Rudolph Libbe Group, Meyer Hill Lynch, Perficient, Warnock, Tanner & Associates.
Some of the job titles: CEO, CIO, Director of IT, Systems engineer, IT Project Manager, IT Security Analyst, IT Helpdesk Technician, Full Stack Developer, BI Manager, Business Analyst, Professional Scrum Master, Director of Enterprise Cloud Sales.
Several specific roundtable topics are set, with people committed to lead them:
Women in Computing
Cybersecurity Training
Collaborative Management
Scrum & Agile
Application Deployments and Support
Web Dev Fatigue
We also expect roundtables on IT infrastructure, cloud services, and BYOD. What else? Depends on who shows up.
We are open to your suggestions for topics! You can nominate a topic at the event while we are socializing, and you will get a chance to mention it to the crowd. If you get a lot of interest, we will give you a break-out room. If only a few people want to join you, we will give you a smaller table in the main room. Or you can join someone else's roundtable. (Or you can just hang out and keep socializing.)
Again, the event is FREE but please register now. Doors open at 5:30pm on Tuesday. Socialize and enjoy a light meal until the "program" starts at 6:15pm. Roundtables begin at about 6:30pm. Done by 8pm, or leave earlier if you need to. Hope to see you on May 2nd!